About us
At our core, we understand the significance of a tailored setup that aligns with your unique style and preferences. After an exhaustive search for the perfect equipment yielded no results, we took matters into our own hands, designing and perfecting a set of our own.

Now, we're excited to offer a comprehensive selection of custom-made setups.
If you're keen to build your own masterpiece, head over to our 'Create Your Own' page and get in touch with us today. Our team is passionate about working with you to bring your dream setup to life.
CUSTOMER SHOWCASE
We're thrilled to showcase some of the stunning designs we've crafted for our incredible clients.
If you like what you see, why not explore the possibilities of designing your very own bespoke set? Simply fill out our 'Design Your Own Keycaps' form and let our team bring your vision to life.
BLACK MIDNIGHT
Introducing Black Midnight a half and half set, where timeless elegance meets modern minimalism. This exquisite set boasts an AZERTY layout, complemented by a sleek, non-backlit white keycap design with black text. The edges are finished with a sophisticated black backlit finish, adding a touch of luxury to your setup.
VINTAGE
The Vintage keycap set is a unique and visually appealing collection that pays homage to the classic designs of yesteryear. Featuring a striking combination of white, yellow, and orange colors, this keycap set brings a touch of retro style to your keyboard.
GOD OF WAR
A set fit for the gods themselves. Featuring a classic QWERTY layout, this stunning design boasts Blue and Yellow Pudding Keycaps that evoke the vibrant hues of the Aegean Sea. A white, non-backlit center provides a crisp contrast that accentuates the keycaps' bold color scheme.
RAINBOW RUMBLE
A timeless QWERTY layout that showcases a stunning spectrum of delectable pudding colors. To make this set truly stand out, we've incorporated a touch of vibrant yellow on the enter key, creating a distinctive and eye-catching accent.
WAKANDA FOREVER
Attention Black Panther and Marvel fans, you won't want to miss out on this stunning set. Featuring a captivating Black and Purple Pudding design, this set is a sight to behold, even with just its colors alone.
SUNSET DREAMS
Are you ready to taste the rainbow? Look no further than our latest multicolored set, designed to infuse your setup with a vibrant burst of color. With a sleek black crust and a playful blend of warm sunset colors in the middle, this set is a true feast for the eyes.
FANTASY WORLD
The Fantasy World keycap set is a stunning combination of black, white, and grey colors, bringing a sense of enchantment and mystery to your keyboard. Its intricate designs and attention to detail will transport you to a world of your imagination, adding a touch of magic to your typing experience.
A.I
The A.I keycap set is a sleek and modern set featuring black keycaps with full ink coverage. Its minimalist design and futuristic aesthetics evoke a sense of sophistication and intelligence. Overall, this set is a testament to the power of human creativity and imagination.
Harrington
The Keith Harrington Art keycap set is a unique and visually stunning set that features the beautiful and captivating artwork of Keith Harrington. Each keycap is carefully designed and crafted to showcase the artist's signature style, bringing a touch of creativity and inspiration to your keyboard.
MUTED
The Muted keycap set is a sleek and modern collection that features standard backlit keys with a striking combination of grey, black, and red colors. This keycap set is designed to add a touch of sophistication to your keyboard while maintaining a minimalist aesthetic that's perfect for any workspace.
NUMERALS
The Muted keycap set is a sophisticated and stylish collection that features a monochromatic color scheme of black, off-white, and white, with elegant roman numeral text that gives it a touch of class and refinement. Whether you're a professional writer, a gamer, or an office worker, the Muted keycap set is a great choice for those who value style and function.
THE WITCHER
The Witcher keycap set is a striking and eye-catching collection that features pudding keycaps in a bold and intense combination of red and black colors, inspired by the iconic Witcher game series. The keycaps are adorned with intricate Witcher rune text that adds an element of mystique and mystery to your keyboard, and is sure to impress fans of the game.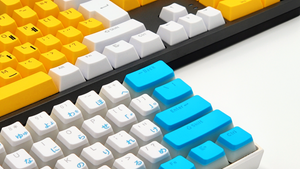 Create your own
DUAL COLOURWAY KEYCAP SET
Welcome to a world of infinite possibilities with our multicolored keycaps. With many shades, many colors, and many styles to choose from, you'll have the flexibility to mix and match to suit your unique preferences.
100/80/60% Layouts
96/75/65% Layouts
stand out from the crowd with our
Individual keycaps
Welcome to our collection of truly unique keycaps, each one a masterpiece waiting to come to life. Our keycaps begin as blank canvases, which we transform with a range of captivating designs, from Among Us to Cute Animals and everything in between.
Can't find what you're looking for? Not a problem! We are happy to create an individual keycap just for you.
SHOP NOW