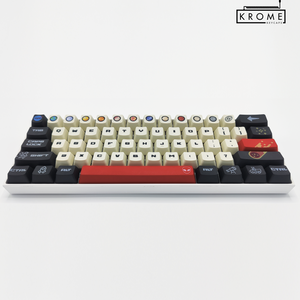 New in
Dye Sublimation keycaps
Check out our newly added Dye Sublimation Sets. Over 15 different sets to choose from. Available in sizes 100/96/80/75/65 & 60%.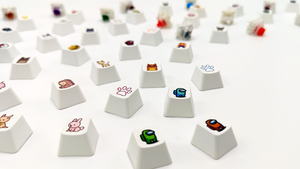 INDIVIDUAL KEYCAPS
Don't fancy a whole keycap set?
Then why not check out our range of individual keycaps!
1U CUSTOM KEYCAPS
Looking for a unique and personalized touch for your keyboard? Look no further! At our shop, we offer a wide range of keycaps designs, from cute animals to Among Us characters. And if you can't find exactly what you want, we also offer the option to create your own custom keycap. Get in touch with us today and let's bring your vision to life!
VALORANT THEMED KEYCAPS
Looking to add some flair to your keycap set? Look no further than our Valorant-inspired designs! Choose from your favorite agents and customize your set with either our Agent or Standard color options. Stand out from the crowd and show your love for Valorant with our unique and eye-catching keycaps.
Non-backlit designs (COMING SOON)
Transform your keyboard into a piece of art with our non-backlit keycaps, crafted from blank canvases into beautiful designs using a variety of fonts and graphics. Our vast collection caters to every interest, from the infinite abyss of space to tranquil Japanese gardens. Find your perfect design and elevate your typing experience to the next level.
SEA LIFE
LOST IN SPACE
Printworks
half/half designs (COMING SOON)
Looking for a unique and modern twist on your keyboard keycaps? Look no further than our half-and-half set! With a sleek design that combines both backlit and blank keycaps, you can have the best of both worlds. Our carefully curated arrangements ensure that you get the perfect mix of style and functionality every time. Say goodbye to boring keycaps and hello to a fresh new look!